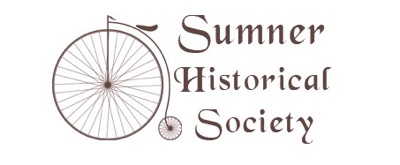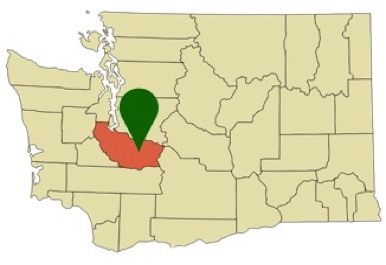 First Settlers: 1854
City Platted: 1883
Incorporated: 1891
Population 1891: 1,000
Population 2017: 10.093
Area: 7.53 sq miles
Sumner is located in the Puyallup-Sumner Valley in Pierce County Washington. It is ten miles from Tacoma and twenty miles from Seattle.
In 1853, the Kincaid wagon train crossed over the Cascade Mountains through Naches Pass. They passed south of Sumner in October of that year.
All of the families spent the winter in Steilacoom. In 1854 William Kincaid and his seven children created a home on 160 acres at the junction of the Puyallup River and Stuck Creek (now known as the White River). The original Kincaid home was located approximately where the Sumner Train Station stands.
Donation Land Claims in the Sumner area were filed by William Kincaid, Isaac & Abram Woolery, Jonathan McCarty, R. Nix, R.S. More, Abiel Morrison & George Haywood.
Once the forest was cleared away and the stumps pulled, farms were established. In 1883, John & Nancy Kincaid with George & Lucy Ryan drew up the plat of Sumner on the Ryan House dining room table.
The construction of the Northern Pacific Railroad depot influenced the development of the community. The downtown and core residential area developed within a 15-minute walk of the depot.
The town was first called Stuck Junction.
Later, J.P. Stewart helped establish a post office serving the area now known as Puyallup and Sumner, and he named the area Franklin after his hometown in New York State.
The U.S. Postal Department requested a new name for the post office since there were other places named Franklin and delivering mail became confusing.
Three townsmen–John F. Kincaid, L.F. Thompson, and George Ryan–could not agree on a name, so each placed a name on a slip of paper and put it into a hat. A boy was called into the store to pick one of the slips and pulled out "Sumner." Charles Sumner was a Senator from Massachusetts and a popular statesman of the 19th century known for his efforts toward the abolition of slavery among other issues.
The name of Sumner went on the railroad depot after the town incorporated in 1891.
The Begining, The First Settlers